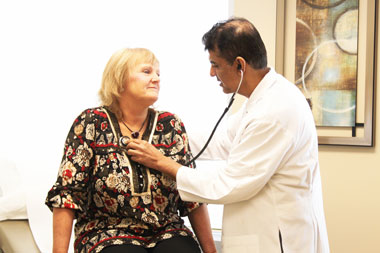 Venous disease affects everyone differently. That's why our physicians take the time to get to know you and your veins so you receive the right diagnosis and the right treatment.
The initial physical examination consists of learning about you and your family's medical history, your vein conditions during pregnancy, history of blood clots, how much pain you experience and other important information.
Vascular ultrasound refers to the evaluation of blood vessels using ultrasound waves. The vessels most commonly imaged are in the neck, legs, and arms. Your ordering physician will determine based on your symptoms which vessels specifically, arteries or veins, need to be imaged. Vascular ultrasound tests performed in our office are carotid, arterial, or venous study.
A Venous Doppler is an ultrasound that focuses on veins. A venous Doppler may be ordered for upper and/or lower extremities. It provides detail about the structure of the vessel wall and assesses blood flow within the vessel.
Ruling out the presence or absence of a DVT (deep vein thrombosis), also called blood clot, in the specified vessel is one of the most common indications for a venous Doppler. A DVT may manifest itself by sudden pain, discoloration, or a change in temperature of the skin. It may due to trauma to a limb or caused the condition called Atrial Fibrillation. A venous Doppler may also be ordered for evaluation of venous insuffiency or long standing swelling.
A venous Doppler is a non-invasive test that usually takes approximately 45mins to complete. In order to image your legs, socks and pants will need to be removed so please plan and dress accordingly.
The sonographer will begin the ultrasound portion of the test by applying the transducer with gel to your inguinal ligament, near the groin area, and follow the vein down to the ankle. With the transducer, the sonographer will press down on specific areas along your leg. Also expect the sonographer to lightly squeeze your calf, and or your foot, at various times throughout the test. This is a normal step necessary for the completion of a venous ultrasound study.
After the completion of the Venous Doppler ultrasound, it will go to a designated physician for interpretation. This is where the final result is generated. A member of our staff will contact you to inform you of your results. To date, no risks have been demonstrated with ultrasound.